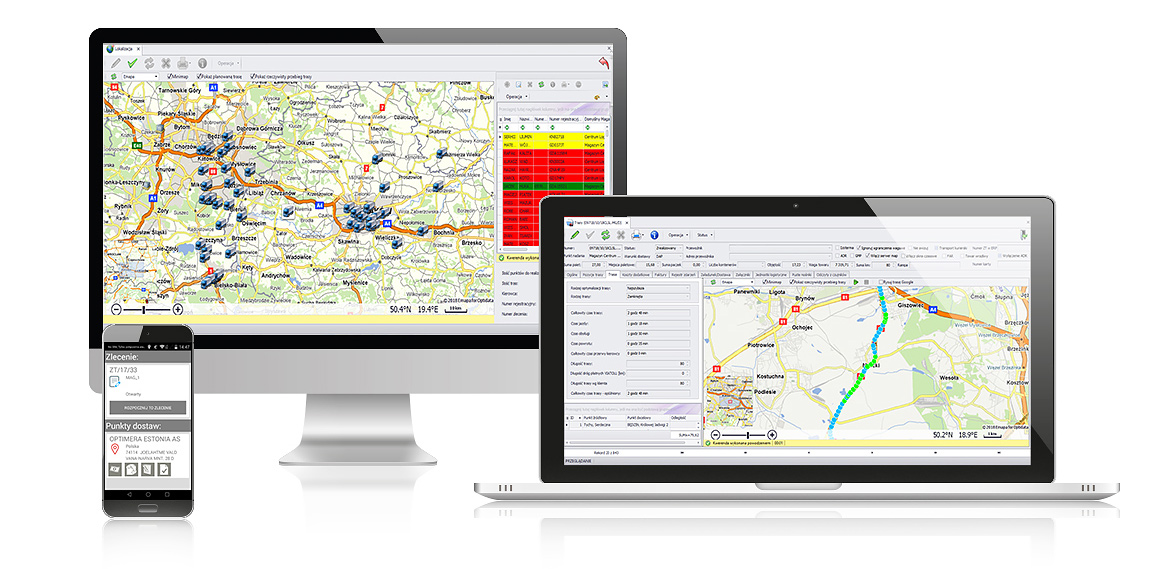 TMS FALCON
The transport management system.
Transport planning, monitoring, accounting and analysis of transport processes has never been more effective. TMS FALCON® is an IT system of TMS class, which specialises in cost reduction of transport management.
The extensive price list feature allows you to choose the cheapest carrier and as well negotiate transport prices. You will be able to estimate transport costs as early as at the planning stage. Thanks to the notification of transport in the TMS FALCON® you will increase the level of your service for transport companies. You will be able to monitor the delivery of goods and reduce unnecessary downtime.
TMS FALCON® as an advanced transport management programme contains a lot of functionalities that help in effective control of drivers, vehicle fleets and transport service providers. Thanks to appropriate communication tools such as e-mail notifications, SMS or the TMS mobile application you will be able to inform the necessary entities about the current status of individual activities.
Automation of the supply chain is crucial for competitive advantage in any economy. This is why the TMS system pays special attention to route optimisation. This helps to quickly develop a realistic plan that reduces delivery costs while maintaining high-quality customer service.
As a user, you will have an extensive TMS interface at your disposal. It includes access to the details of transport orders, including a list of transport orders within a given time frame.
WHAT IS TMS
TMS is a transportation management system used for optimisation of all processes related to the delivery and dispatch of goods. The TMS class system is an ideal programme for forwarding and transport, companies providing logistics services, distribution and trade companies as well as any other companies which own their own or a rented car fleet.
If you have any questions, please feel free to contact us:
SYSTEM OBJECTIVES
Delivery optimisation by means of order consolidation, transport and delivery planning, management of drivers, vehicle fleet and transport service providers as well as and transport event monitoring;
Handling all transport orders (groupage, full loads, direct, or combined) and planning stage inefficient transport identification;
Handling contracts regarding transport tasks and fleet;
Settlement of transport costs;
Managing costs of own and external transport, comparing costs from the planning stage with the actual costs;
Contract management for permanent routes;
Communication with transport suppliers via an SMS gateway, web application and email notifications;
Communication with logistics operators' systems such as Schenker, Raben, GLS, DHL, UPS, DPD;
Transport reserve creation;
Transport costs reporting according to chosen criteria such as recipients, goods, transport supplier, or posting point;
Planned and real routes compliance check;
Shipment tracking ( interface via track & trace mechanisms; external transports via an SMS sent by the driver or application).
OPTIMISING TRANSPORT WITH TMS
With the help of the TMS FALCON® web application, you can easily complete any stage of the transport process. Just a few clicks will allow you to master all activities related to route planning and its formal settlements.
Provide an optional external data source such as the ERP system, web interface or customer orders sent using EDI.
Prepare the documents.
Create the transport order. Plan the route including optimisation of vehicle loading, route length and time windows, estimate costs according to a defined price lists and choose the most favourable option.
Request transport.
Physical implementation of transport orders: hand over for implementation; carry out transport tasks; complete delivery; find out final transport costs.
Settle transport costs including the cost analysis and price list verification.
Send the obtained data to the ERP system, accounting system and to contractors including order processing reporting and settlements.
Proceed with the following tasks.
Plan and create manual or automatic transport. Optimise routes thanks to built-in algorithms that take into consideration parameters such as the quantity of goods, time windows for planned delivery or pickup of the shipment, permissible load and pallet capacity of transport means, maximum route time, minimum fill level, type of route and average service time.
After the approval of the transport order form, the system will allow for inquiry sending via email, SMS and WWW to earlier defined carriers with regards to their willingness to carry out a given transport task.
TRANSPORT NOTIFICATIONS IN THE TMS SYSTEM
Limit the bottlenecks associated with loading and unloading of the goods. Increase the level of service for transport companies thanks to the transport notification. Notify shipments in the TMS FALCON® system. Do it automatically or manually.
You can modify the dates and times of notifications in the TMS FALCON® system. Each change generates an email notification. It will be sent to the freight forwarding assigned to the GT and the configured group of recipients. If you choose an automatic notification, the system sets the date according to predefined rules. In addition, you can modify the notification data within the TMS.
SETTLEMENT OF TRANSPORT IN THE TMS SYSTEM
Automate settlements of completed routes thanks to extensive price lists. In the TMS system, you will have the option to define price lists for transport settling and transport services. The TMS FALCON® system has several predefined price list types: kilometre, weight, pallet, kilo-kilometre, pallet-kilometre, route, number of unloadings, packet-kilometre, package, pallet-zip code and container.
Store and manage the invoicing documents in the TMS system. Create invoices in several ways: manually by inviting to invoicing using a file in MS Excel (XLS) format, inviting to invoice via WWW, creating an invoice from the WWW level or importing an invoice from a file in an MS Excel format.
REPORTS IN THE TMS SYSTEM
Create extensive reports on transport activities carried out so that you can make better decisions for the planning phase. You will have a graphic editor for printed reports built into the TMS FALCON® system.
COMMUNICATION IN THE TMS SYSTEM
Send email notifications on-demand or automatically from the application level, post status change, for example. The TMS FALCON® system has an extensive email notification mechanism. The software allows you to parametrise each of the email notifications according to the recipient or group of recipients, who may be different depending on the location of dispatch.
Standard email notifications available in the system are the following: change of transport order/transport order status; transport orders offers; dispatch route and load summary for forwarding; dispatch offer for a fixed freight forwarding route, information regarding the required notification, weekly cost summaries, loading confirmation, changes in the date/time of transport notification, information regarding lack of substitution of a vehicle at the time indicated on the notification.
Use the TMS FALCON® mobile application and increase the efficiency of communication with the carrier. Send the transport order directly to the mobile device that the driver supports. Communicate quickly, easily and securely.
THE TMS SYSTEM IMPLEMENTATION BENEFITS
Route length optimisation;
Minimum delivery costs;
Maximum use of loading space;
Increased customer service quality;
Best carrier choice;
Reduced costs of transport planning through reduced number of staff;
Shipment tracking and traceability;
Integration with freight forwarding systems;
Settlement of transport invoices in connection with transport orders;
Own fleet management;
Own transport schedule;
Planned rivers' working time;
Integration with the fleet supervision systems;
Lower 'social costs' through reduced number of trucks, emissions and accidents.
TMS SOLUTION PACKAGE
Trusted, proven offer. We have the best TMS offer for companies that are looking for a ready, comprehensive solution. Start working with us today.
The TMS FALCON® solution package includes:
The pre-implementation analysis of the TMS system- we will support you in the optimisation of transport processes and develop procedures that will improve the flow of objects and information while eliminating the possibility of potential abuse and embezzlement;
TMS system design – before installing the software you will receive a detailed system design, including its exact specification, budget and implementation schedule. Thanks to the previously developed implementation concept, you will be able to plan your personal, financial and time resources in detail;
TMS FALCON® system – we will provide an efficient solution in a short time since we have our own software department and we work with modern tools with large configuration possibilities. The TMS system tailored to your business needs is the TMS FALCON®;
TMS system integration – we will integrate TMS FALCON® with your current ERP business system or WMS. We enable data exchange at the level of database transactions based on XML or other objects according to individual specifications;
Implementation of the TMS system – the production implementation of TMS FALCON® is preceded by full tests and prototype launch in your business environment;
The TMS implementation is collision-free. After starting the system, the implementation services will provide you with appropriate personal assistance for both the users and administrators;
Service and maintenance of the TMS system – the product and service quality provided is of the utmost importance to us. You will have a comprehensive service, help-desk, ongoing supplies of consumables and technical assistance carried out 24/7/365 at your service. As part of technical assistance, we provide replacement devices and solutions for the duration of the issue, remote service and maintenance of the software, as well as direct on-site servicing for the entire system including hardware, software and network;
Development of the TMS system and adaptation to business needs – for an already implemented installation, we will provide you with full technological and substantive support which will enable ongoing adaptation of the TMS FALCON® system to your changing business needs.
Files to download