WMS OPTIPROMAG
Expert in warehouse and production management.
Warehouse product management has never been more effective. OPTIpromag® is an IT system of the WMS class that meets the expectations of the most demanding managing directors: it effectively automates and optimizes the processes of Warehouse Management, allows you to control the planning of production and logistics events in online mode, allows you to create advanced work performance reports throughout the entire supply chain.
Processes in WMS OPTIpromag® are supported by automatic identification (AI), therefore working with a mobile terminal allows you to quickly collect and process all product data in the system.
The software was built from two basic modules: warehouse and production and two innovative extensions: READY TO RFID and READY TO VOICE.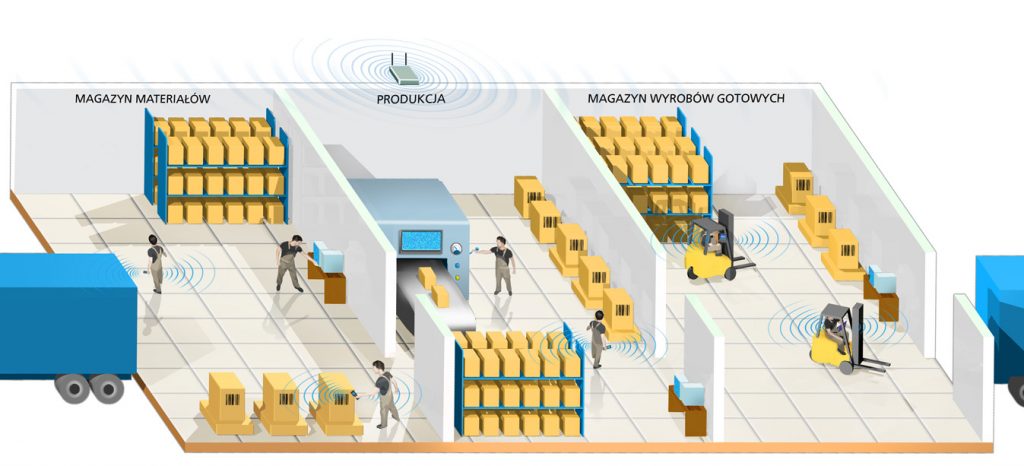 WHAT IS WMS
WMS or Warehouse Management System is the software most often used in logistics to optimise warehouse and production processes. It allows you to administer the movement of products from the receipt of raw material at the warehouse to the release of the finished product to the customer. All product data is collected using barcodes. Modern devices are used for this purpose: scanners, readers and data collectors.
WMS OBJECTIVES
The modern WMS solution has been designed in a way as to organise all matters related to the identification of products in stock and, more importantly, to improve the functionality and work efficiency of an enterprise. The WMS OPTIpromag® system objectives are:
Process optimisation;
Immediate availability of information online;
High level of object identification efficiency;
Effective quality management;
Increased work efficiency;
Increased degree of delivery;
Route optimisation for warehouse employees;
Track batch and serial numbers;
Creation of quick and error-free inventories;
Cycle time decrease counted from the moment of ordering with the supplier until the delivery to the recipient;
Inventory reduction;
Returnable packaging management;
Error-free and efficient order processing;
Automatic settlement of goods flows in the material warehouse cycle -> production -> finished goods warehouse;
Elimination of abuse and embezzlement;
Storage strategy optimisation;
Product labelling using commercial and logistic labels;
High-level system availability is understood as the minimum failure rate and automation of all processes.
WMS COOPERATION WITH ERP
In logistics companies, WMS software often supports the ERP (Enterprise Resource Planning) systems. This cooperation is possible due to data exchange between these softwares. The benefits of such a solution are primarily:
Compliance with standards regarding the transmission of information;
Automatic product movement in warehouses;
Automatic download of basic data (product files, customer files, units of measurement, codes, packaging schemes);
Automatic event logging thanks to information exchange between systems;
Transaction exchange for PW, MM, RW, WZ, inventory and other processes.
If you have any questions, please feel free to contact us:
THE WMS PROCESSES
Accurate tracking and full supply chain management allow you to control and effectively plan the logistics and production processes. The WMS OPTIpromag® system provides information on whether what is needed is produced, in what quantities, how it is delivered to customers, and what is the order status on the suppliers end. All adverse events that reduce efficiency are quickly identified and eliminated. A single system enables management of production, warehouse, quality control, shipping and order making to the suppliers in real-time. A single supplier can therefore efficiently manage, maintain and service the entire system while optimising all its processes:
Incoming of goods in the WMS system – carry out incoming of goods following a number of scenarios. Customise admission procedures according to various criteria, such as the presence of items received in the order; timeliness of deliveries; or expiry date of products. All system activities are implemented using a radio, which allows you to monitor all warehouse operations in real-time.
The flow of goods in the WMS system – operate efficiently thanks to the tailored algorithms for the movement of goods. Direct the goods to high-speed warehouse locations (goods with a high turnover rate are located in the areas of the warehouse where further warehouse operations can be carried out the fastest), for quality control, the production stage (Just-In-Time) or forward them for ongoing implementation release orders (Cross-Docking). Define the scenarios of goods movement according to your needs in a flexible and dynamic way.
The quality control in the WMS system – carry out procedures needed to ensure the highest quality of goods received. Thanks to the appropriate parameters in the system, you will be able to verify the expiry date, batch numbers, serial numbers and many other properties related to the products. Extensive configuration options will allow you to support both sampling and quarantine procedures.
Completion in the WMS system – implement multiple scenarios for picking goods. Group goods into sales or product sets (mixes). Completion is carried out using real-time radio communication and can be carried out in one or multiple stages. The process can be carried out by one or multiple operators (in a chaotic manner according to the principle of free operators queue) depending on the business requirements and industry specifications. At the completion stage, take into account the additional features of the goods that determine how it may be implemented. For example, goods that are vulnerable to damage will not be allocated to the stack base. Additionally, make use of the dynamic picking zone.
Production in the WMS system – perform completions and production orders, track production events (full production traceability), monitor non-standard and dangerous events (e.g. oversize material losses), implement production labelling (in terms of unit products labelling, collective packaging and pallets), take into account quality control, and carry out the transfer of production to the appropriate warehouse. The system has mechanisms that allow it to be adapted to the stream, nest or production orders. Record all operations and document selected processes with appropriate production proofs. Perform full production reporting including shift reports. The system's mechanisms allow for an inventory, including work in progress, according to broad criteria range.
Release of goods in the WMS system – complete the collection of issues with a high level of parameterisation. Issue goods taking into account the connection between the individual logistics facilities labelling and according to individual requirements of the recipients. The release procedure can be carried out according to various scenarios, ranging from Cross-Docking, through the implementation of warehouse orders divided into individual operators, up to multi-stage release procedures, combined with control procedures (e.g. weighing facilities), linking or printing of logistics codes of courier companies, etc. Support for release processes is optimised in the OPTIpromag® system for the highest level of efficiency. This is understood as a combination of highest level performance and precision while eliminating potential abuse and manipulation.
The inventory in the WMS system – carry out various inventory procedures ranging from a traditional physical inventory carried out by the On-line radio terminals, through random inventory by location according to goods, suppliers, delivery calendar, documents or other parameters. Perform the inventory by many committees simultaneously. Conduct a cross-inventory, where a census commission independently controls the work of another commission.
WMS SYSTEM - WAREHOUSE MANAGEMENT
Advanced WMS algorithms optimising the operation of the OPTIpromag® system in the areas of storage and transport of materials and finished products are the core of the system. Warehouse processes can be carried out in various ways such as mobile, real-time or with simultaneous or complete elimination of documents in paper form.
The extensive functionality allows for effective handling of the following warehouse processes:
PZ – external acceptance can be implemented by the warehouse system according to set scenarios in connection with the strict supplier system for orders. During the PZ process, advanced control procedures (quantity control, expiry date monitoring, batch number registration and others) are carried out.
WZ – external edition, which is efficient and error-free. Thanks to the implemented warehouse management process (WMS) mechanisms, various WZ implementation methods are possible; cross-docking, packaging, individual labelling, etc. It is possible to label shipping units with individual logistic labels in accordance with the GS1 standards.
RW, PW, MM – ensure the movement of goods and materials within one enterprise. Different levels of restrictiveness and individual access rights to perform individual functions are possible.
Inventory – carried out according to many parameters, e.g. supplier, batch, locations, goods, etc. The user has the following types of inventory at his disposal: continuous, random, handover and settlement.
WMS SYSTEM - PRODUCTION MANAGEMENT
WMS OPTIpromag® provides support for production plants with various production organisation methods, such as stream; discrete; process; sequential; and custom productions. In addition, the system implements full production traceability, material control, production reporting, semi-finished product labelling, unit products, collective packaging, pallets, etc. Each production order has an appropriate status while the settlement of changes takes place in a fully automated manner.
The production module allows for:
Transfer of production plans;
Material picking from the material's warehouse;
Real-time production reporting (e.g. by quantity, lot, LOT numbers, serial numbers, Kanban cards – including foreign cards);
Possibility of individual integration production machines with object controllers;
Rigorous processes (samples, quarantine) implementation;
Production statistics and automatic reports keeping including alarm reports based on exceeding the minimum material levels, inconsistencies in the execution of orders and production plans, etc.;
Registration and tracking of losses, faults as well as damages and shortages according to various criteria;
Production traceability.
BENEFITS OF WMS OPTIPROMAG® IMPLEMENTATION
Mobile support of online warehouse processes, i.e. in real-time;
Full access to the history knowledge about each facility in the field of the warehouse trading process;
Efficient labelling process, full and unambiguous traceability of goods;
Batch control;
Intelligent algorithms for warehouse inventory;
Intuitive location and collection path prompting for picking;
Completed mail order mixes;
Implementation of the FIFO, LIFO, FEFO and individual queues;
Series ends elimination in warehouses;
Elimination of errors and acceleration of operations, lower costs, higher security, simple operation addressing;
Elimination of anonymous goods movements;
Close to 100% order enforcement;
Improvement of key process implementation;
Quality policy application;
Inventory at a functioning warehouse;
Shorter time for document circulation as online warehouse processes implementation eliminates delays;
Shorter inventory time, inventory implementation by about 60% and its settlement by 80-90% on average;
Effective warehouse space management;
Fewer mistakes in the logistic procedures and related costs;
Improvement of information flow between the administration and the warehouse;
Flow of goods monitoring and control within internal and external trade;
Effective control of warehouse employees;
Decrease in costs of the internal and external logistics;
Less work-related to direct verbal transmission of orders to a trolley or portable terminals;
Increase in control of overall warehouse operations.
WMS OPTIPROMAG® READY TO RFID
OPTIpromag® ready to RFID' is an extension of the OPTIpromag® production and the warehouse management system. Thanks to this module, support for the warehouse as well as the production and logistics processes has become easier. This is because, in addition to standard labels containing barcodes which are commonly used today, our WMS system also provides support for the RFID tags. The elements that make up the extension are RFID tags, RFID readers and software.
Discover the benefits of using RFID technology.
The use of RFID gates can easily automate some of the processes that are carried out manually by the users. For example, if the RFID tags will be assigned to cars, the OPTIpromag® system will be able to record when they pass through a gate using RFID readers. This, in turn, can record the exact arrival or departure of such a car.
OPTIpromag® ready to RFID' system provides support for two work models; the stationary one with RFID gates and a mobile one with RFID terminals. Work can also be done within distributed architecture. This work model is used to manage transport or pallet circulation. As the data from RFID identifiers is transmitted to readers by radio, it is often exposed to various types of attacks. This is why software is protected with the help of latest data encryption techniques and user authentication. Mobile terminals ensure data security both in case of communication with the server via WiFi and GSM.
OPTIPROMAG® READY TO VOICE
OPTIpromag® ready to VOICE' is an additional module for the OPTIpromag® production and warehouse management system that allows interaction with the system user based on voice commands.
This support extension allows for faster execution of production and logistics processes. This is because the system prompts the user to follow subsequent commands through a headset. Their execution is then verbally confirmed through a microphone connected to the terminal. The time yield resulting from this approach is particularly visible during the implementation of order picking and delivery processes.
Order picking – faster, more efficient and effective – learn more!
THE WMS SOLUTION PACKAGE
Trusted, reliable offer – we have the best WMS offer for companies that are looking for a ready and comprehensive solution. Start working with us today.
The WMS solutions package includes:
Pre-implementation analysis of the WMS system- with your feedback we will develop procedures to improve object and information flow that will effectively eliminate the possibility for potential abuse and embezzlement. Let's create a plan together.
The WMS system design – before installing the software you will receive a detailed system design including its exact specification, budget and implementation schedule. Thanks to the previously developed implementation concept, you will be able to plan your personal, financial and time resources in detail.
Devices for the WMS system – as part of the OPTIpromag® installation, we will comprehensively equip you with the necessary professional equipment such as mobile data terminals, trolley terminals, industrial barcode readers, barcode printers, label applicators, radio networks, labelling devices and servers.
WMS – in a short time frame we will provide an efficient solution as we have our own software department who use the most modern tools and therefore large configuration possibilities. The WMS system tailored to your business needs is OPTIpromag®.
WMS system integration – we will integrate OPTIpromag® with your current ERP, MRP, TMS class business system. We enable data exchange at the level of database transactions based on XML or other objects according to individual specifications.
Implementation of the WMS system – the production implementation of OPTIpromag® is preceded by full test and prototype launch in your business environment. WMS implementation is collision-free. After starting the system, the implementation services will provide you with appropriate personal assistance for both users and administrators.
Service and maintenance of the WMS system – the quality of delivered products and services is of the utmost importance to us. This is why we will provide you with comprehensive service, help-desk, ongoing supplies of consumables and technical assistance carried out 24/7/365. As part of technical assistance, we also provide replacement devices and solutions for the duration of the given issue, remote service and maintenance of the software as well direct on-site service for the entire system including hardware, software and network.
Development of the WMS system and adaptation to business needs – for an already implemented installation, we will provide you with full technological and substantive support enabling ongoing adaptation of the OPTIpromag® system to your changing business needs.
Files to download